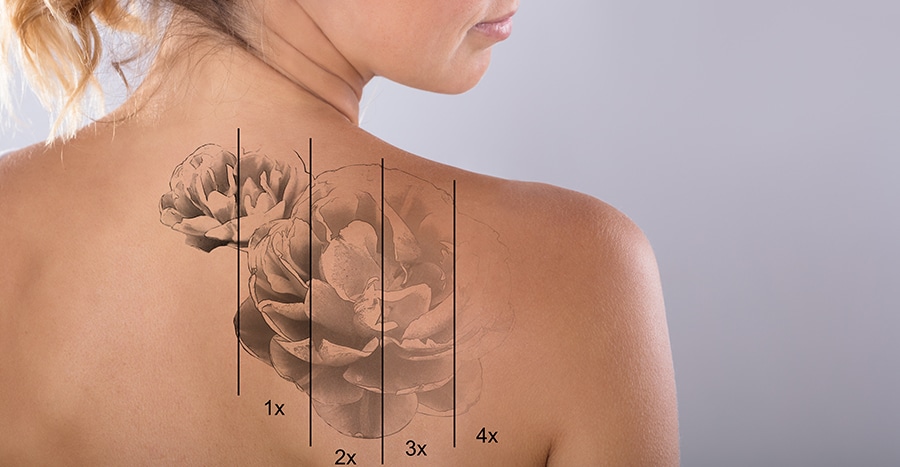 Do you have a tattoo that you do not love as much as you once did and now regret your decision every time you see the ink? Laser tattoo removal is the most widely recognized and effective method of removing unwanted ink that one may be regretting from their younger years. If you are looking for solutions to remove a tattoo, it's not uncommon to have many questions about the treatment. Bentley SkinCare and Wellness can help answer some of these questions. Learn more during a consultation with our team in Springfield, MO.
How does Laser Tattoo Removal Work?
During the removal, a laser passes through the skin and targets ink. Once it comes into contact with the target, it damages the ink and breaks up the pigmentation into smaller and smaller pieces, all while ignoring and preserving the skin. The ink breaks up into particles small enough for the body to remove it naturally through the lymphatic system.
After one session, pigment particles will remain, but the tattoo will becomes visibly lighter. Multiple sessions of laser tattoo removal are required to effectively remove as much of the ink pigment particles as possible.
How effective is the treatment?
Although laser tattoo removal works best on darker pigmentations, all shades of ink can be removed. However, the frequency and number of sessions required depends on the color of the ink. Certain pigments such as fluorescents are more difficult to remove because they usually have an absorption spectra that fall outside of the emission spectra for the lasers used in the procedure. As a result, more light is reflected from the pigments, rendering the laser tattoo removal less efficient. Though, with enough time and commitment through multiple sessions, all pigments can be removed.
Is Laser Tattoo Removal safe?
Laser tattoo removal is the least invasive, non-surgical, and safest method of removing ink pigments. It keeps the skin intact while targeting only the tattoo particles and allows the body to naturally remove the ink. A consultation with our team can help you explore the possibilities of what laser tattoo removal treatments could look like for you.
Getting Started
First and foremost, patients need to be in the right mindset. Like getting tattoos, removing them is a permanent augmentation to the skin. One must be fully committed to getting rid of their ink. It is important to understand the procedure as well as have realistic goals. Our qualified team can help you understand what this treatment could be like.
For more information about this treatment, or to set up a consultation, contact us at Bentley SkinCare and Wellness today! Our team in Springfield, Missouri, can help you start your journey to saying goodbye to unwanted ink with the help of tattoo removal.