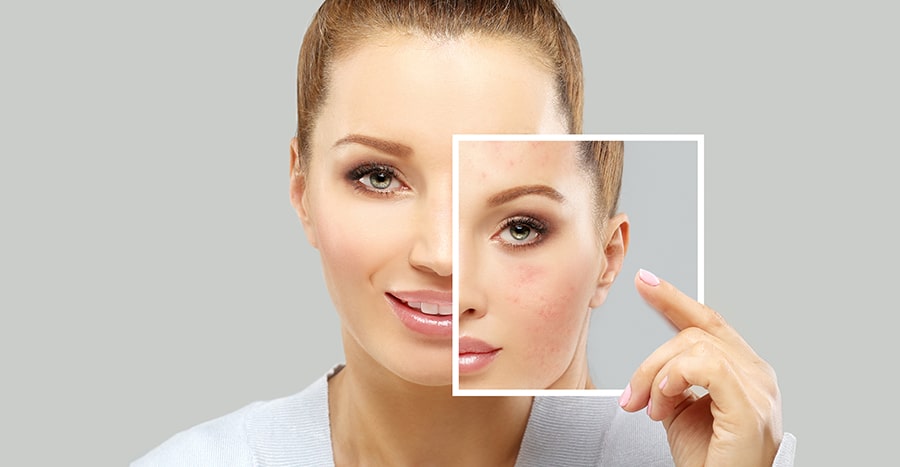 Although acne is one of the most common skin conditions, accurate information regarding how to treat it is hard to find. This makes it difficult to achieve clean and healthy skin. Bentley SkinCare and Wellness specializes in acne treatments. Explore your options during a consultation with our team in Springfield, MO.
What is Acne
Acne occurs in several forms when hair follicles are clogged with dirt, dead skin cells, and oil. Some forms of acne are characterized by blackheads, whiteheads, pimples, and oily skin. It is prevalent around areas of the body with oil glands like the face, neck, upper chest, and upper back. Teenagers and young adults primarily suffer from this condition since their increase in hormones and testosterone lead to a rise in growth of the bacterium Propionibacterium acnes.
Why is it a problem?
Not controlling or treating the condition can lead to outbreaks, potential scarring, and discoloration of the skin. In order to prevent these issues, there are acne treatments that can help get rid of and prevent future acne-related skin conditions.
Acne Treatments
Many acne treatments are available at our disposal, such as physician-grade creams that use various acidic solutions designed to dissolve acne-causing agents, clean hair follicles, and prevent future outbreaks from happening. These are effective medications but are not permanent solutions to acne since skin should be kept clean to maintain optimal health.
Medications
Antibiotics and creams containing benzoyl peroxide, retinoids, hormonal agents, or a mix of acids have been proven to work well to cure, treat, and prevent acne-related skin conditions. These acne treatments are available from physicians and commonly in pharmacies. Combining some of these treatments has been proven to be much more effective than relying on just one type.
Procedures
Advanced procedures for acne treatment are mostly performed under strict conditions and administered by our trained team. These include procedures like light therapy or exfoliating treatments. Light therapy is a treatment method that involves delivering certain wavelengths of light to an area of skin affected by acne and is confirmed to provide short-term benefits.
For long-term benefits, potential patients should leverage medicinal procedures or alternatives to light therapy. To reduce scarring, skin abrasion techniques like microneedling are recommended, which create small abrasions in the skin to induce the healing process. This increases collagen production which reduces the visibility or eradicates scars.
We proudly offer radiofrequency (RF) treatments with Venus Versa™. By applying RF technology, both the appearance and the cause of acne are simultaneously addressed in one quick, relatively painless treatment!
Bellafill® is an FDA-approved dermal filler that can be used to address the appearance of acne scars. When administered, this injectable reduces the appearance of volume loss with the help of a unique collagen microsphere formula.
The Ultimate Acne Treatment
The best acne treatment, by far, is proper skin care. As mentioned before, acne is primarily caused by dirt, dead skin cells, and oil clogging hair follicles, but all of that can be avoided, or efficiently treated, if one maintains proper skin health. Those who have oily skin should keep their faces clean with water-based cleaning solutions. Water is a natural catalyst for treating any skin conditions that may appear out of the blue.
To find out what acne treatments we offer, and to determine which one is right for you, contact the experts at Bentley SkinCare and Wellness today! Schedule your consultation to visit our office in Springfield, Missouri, and learn more how to best take care of your skin.
Before and Afters